Over 20 years manufacturing and distribution experience of professional refrigeration.

Non-GN Under Counter Series (AUCS)
Products
Non-GN Under Counter Series (AUCS)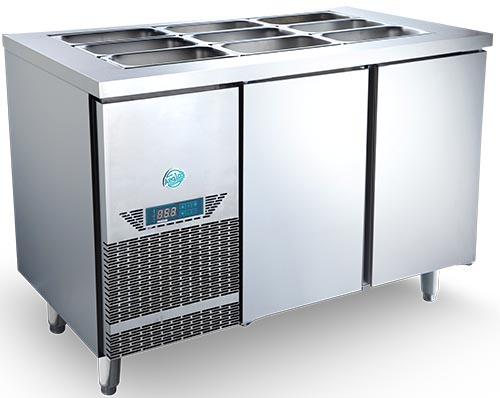 Non-GN Salad Counter Refrigerator
Aeglos' salad counter facilitates refrigerated storage and quick dispensing of toppings and ingredients for faster preparation of salad/sandwiches. Meanwhile, counter can be customized in order to suit different sizes of GN pans.
---
Product Features
Removable cassette type condensing unit and evaporator for easy cleaning and repairs
Stainless steel exterior and interior
Galvanized steel back and base
150mmH Adjustable legs
Digital Contoller
Self evaporating condensation water, drainage not required.
220v/50Hz
Alternative
LED light
Castors
Heated film glass door
Double pass through door
Proprietary cam lock
220V/60hz
---
Model
Temp Range (℃)
External Dimension (mm)


Width * Depth * Height

1200-XDD-SO-7C4
+1 ~ +4
1200 * 700 * 850
1500-XDD-SO-7C4
+1 ~ +4
1500 * 700 * 850
1800-XDD-SO-7C4
+1 ~ +4
1800 * 700 * 850
Brochure
---
Would like to be one of our legendary end-user?